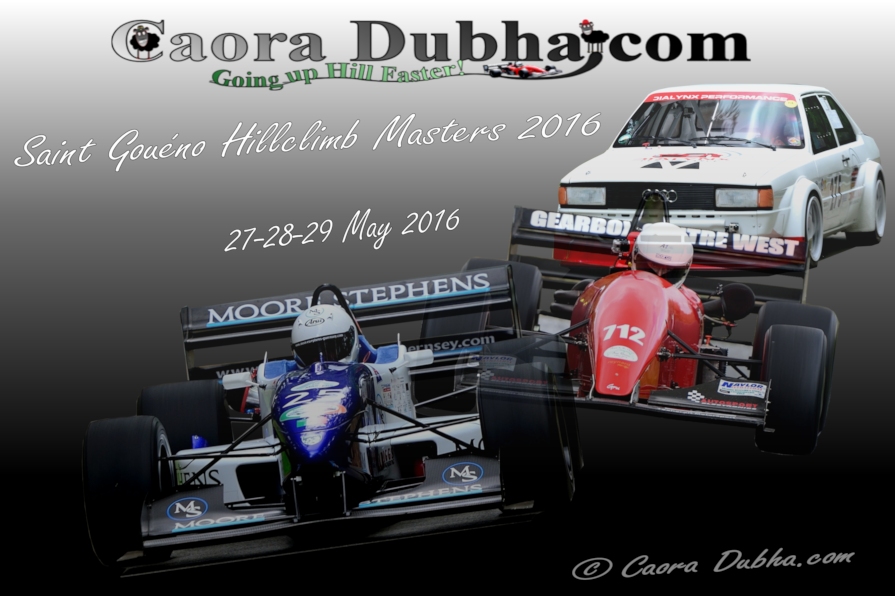 Twenty-six Irish drivers have now entered the Saint-Gouéno Hillclimb masters event held in Côtes-d'Armor in Brittany France. This 3.2Km ribbon of Tarmac is considered by many to be one of the most prestigious motorsport events in the French Hillclimb calendar. The event runs from May 27/28/29 and attracts thousands of spectators who flank the entire hill all the way up to the infamous Fer à Cheval hairpin bend, where the faster cars approach this bend at well over 240Km/h, testing both the metal of the driver and their cars to their limits.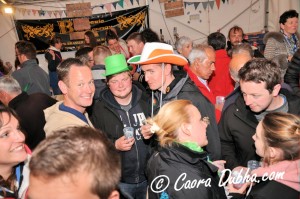 The event kicks off on the Thursday with the traditional welcome party for the masters drivers in the village of Saint-Gouéno where the guests sample the finest local French cuisine along with some excellent French wine and beer and some more wonderful French wine…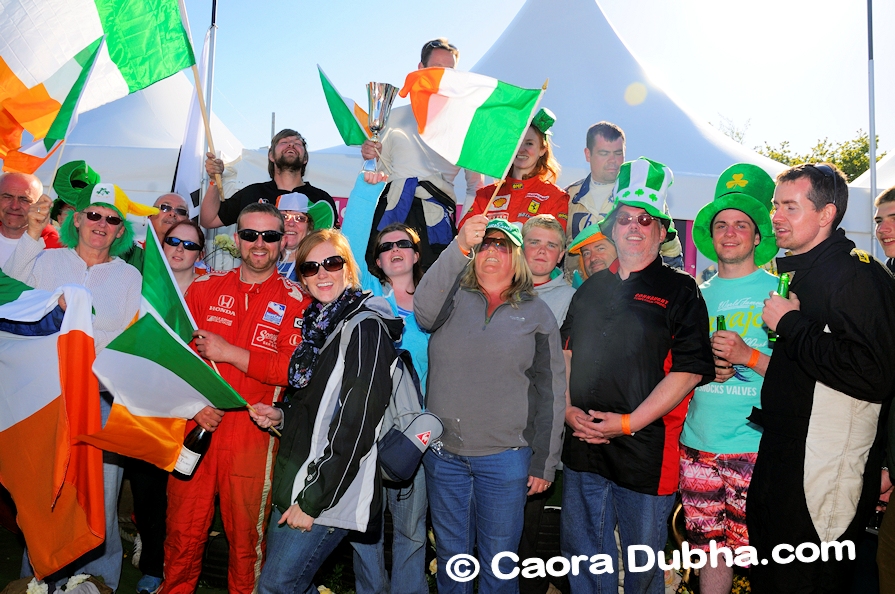 Heading up the Team Ireland is our champion Joe Courtney, Joe finished second last year behind Darren Warwick in his Dallara 399.
Rory Stephens is also making the trip with his Radical SR8 along with Deidre McKinley, and the legendary Simon McKinley Escort will be driven by Simon's dad Peter. The Escort is sure to get a warm welcome as Simon had a legion of French fans who loved to see the car in action. Indeed one of the most popular areas in the paddock is the Irish camp; festooned with Irish flags, banners etc. The fans adore the party spirit of the Irish competitors, and a real party atmosphere runs all weekend practically 24hrs a day.
Looking after the masters is John Lloyd & co, John has assembled a Dream Team and they have practically turned the event into a Click-and-drive affair. The amount of work that goes into this event is mind-boggling  and these guys have a Bazillion things to organize over the course of the weekend. And we all really do owe John and his team a Big Thank You.
I could go on and on about this event, but I think the pictures tell the story of the masters so much better. So click on the links to see some excellent action and a whole lot of mighty crack!
Past events in our Gallery:
Irish Drivers entry list courtesy of John Lloyd.

1.    Barry Smith            Ford Escort Mexico
2.    Paul O'Connell       BMW E30 V10
3.    Ben O'Brien           BMW M3
4.    Cormac O'Brien    Ray Formula Ford
5.    Dermot Nolan        SHP RT 2000
6.    Peter Mc Kinley      Ford Escort
7.    Deirdre Mc Kinley   Vauxhall Nova
8.    Ivalo Linder             Fiat Cinquecento
9.    Derek McGuinnes   Peugeot 205
10.    Jack Kingston       lotus Elan S4
11.    Colm Hynes          Ford Cortina GT
12.    Denis Hogan         BMW M3
13.    Donal Grffin           Hilman Avenger BRM
14.    Emmet Dunne       Dallara 391
15.    Gary Cunningham Global Light GTJ
16.    Peter Cummins     Darian T90 GTR
17.    Eanna Carrol         Honda Civic
18.    Neil Bradbury         Fiat Chinquecento
19.    Peter Dwyer           Lola T96/50 F3000
20.    Rory Stephens       Radical SR8
21.    Robert Swaine       Van Diemen FF 1600
22.    Brendan Keane      Westfeild SeiW
23.    Joe Courtney          Reynard 913
24.    Garry Egan             Fiat Seicento
25.    Mick O'Shea           MGB GT     
26.    Billy White              Fiat Seicento
Below is a list of websites well worth a visit..
Hillclimb Masters Website by John Lloyd.
Course de cote Saint Gouéno webpage
All things Hillclimb in Ireland:
Irish Hillclimb & Sprint webpage all the news, views, results and much much more.
Irish Speed Marshals FaceBook Page.
Vantage Point Video for the definitive collection of Irish Hillclimb Video & News.